Dog training and Dog behavior problem solutions...
Ivy
Shelby
Puppy Training and Manners:
This service gives your family and new puppy a favorable start.  Now is the time to create life long good habits and prevent bad habits.  Kind, reliable methods will give your puppy a head start on important household manners and simple but necessary puppy obedience commands.  Learn how to use positive motivation to shape the behaviors you desire.  Also covered: puppy developmental stages, techniques for socialization, understanding the canine mind, establishing good habits, discouraging undesirable behavior, routine puppy care and more.  Get your puppy started off on the right foot now!
Basic Dog Obedience Training and Manners:
Training your dog is a huge part of responsible dog ownership.  Obedience trained dogs are calmer, more well-mannered and have fewer behavior problems than untrained dogs.  Included are techniques to train your dog to walk on leash, sit, lie down, stay in place and come when called.  Also included are important suggestions to help you apply what you have learned to real life situations.  From a practical aspect, your dog should behave at home, in public places, and in the presence of other dogs and people.  At the conclusion of training, you will learn what is essential to keep your dog responsive.
Beyond Basic Dog Training:
  For building on the skills learned in Basic Dog Training, more off-leash reliability, and for strengthening the bond between you and your dog. Instruction also provides a solid foundation for therapy dog programs. Also covered will be preparation for the increasingly popular Canine Good Citizen test.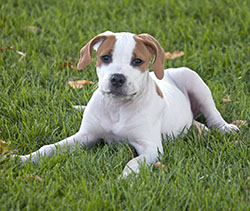 Oso This test, for purebred and mixed breed dogs alike, was designed by the American Kennel Club to recognize and promote responsible dog ownership and the well-mannered canine companion. Omaha city ordinance now requires certain dog breeds to pass the Canine Good Citizen test to be exempt from a requirement to be muzzled when in public.
Behavior Problem Counseling:
Specializing in dog behavioral issues, I use a humane and psychological approach to cover problems such as jumping up, housebreaking, nipping, barking, digging, chewing, phobias, shyness, reactivity, bolting, aggression and much more.  Frequently, failure on the owner's part to effectively and consistently train and supervise a young dog can contribute to difficulties.  However, behavior problems are often a symptom of a bigger issue -- the dog's perception that the owner lacks authority.  A private behavior consultation and evaluation helps owners define and resolve problem behaviors. Stress and frustration is alleviated and harmony is restored when the dog clearly understands expectations, rules and boundaries.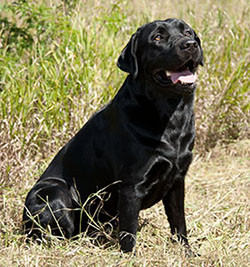 Dillon
Canine Camp Board and Train:
This service is offered only on a selective basis and is designed to provide intensive training for your dog.  Ideally, owners should be active participants in training their dog; however, I realize that sometimes there are circumstances that make sending your dog away from home to be professionally trained the best option.  An individualized program will be developed with your specific goals in mind, including basic dog obedience, household manners and solving problem behavior.  If you are struggling with your dog, or just having trouble scheduling time for training, this may be the answer.  Follow-up assistance is, of course, included. 

Lilly, Cruise, and Bentley